Delicious Reds 8000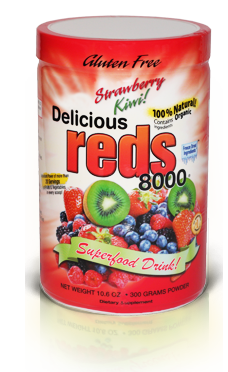 Eating your fruits has never been easier thanks to Delicious Reds 8000. A super fruit powder drink with virtually every berry known to man. Wild blue berries, raspberries, black berries, bilberries, goji berries, cherries, cranberries and strawberries.....the list just keeps going on and on! Then, to kick it up a bit, we added hints kiwi and citrus fruits for added punch and taste. Delicious Reds 8000 is made with dozens of ingredients including certified organic fruits and vegetables, enzymes, probiotics, natural fibers, vitamins minerals and more.
Delicious Reds 8000 boosts an antioxidant power of over 8000 ORAC units. It would take over 20 servings of a variety of fruits and vegetables to obtain the same antioxidant power you will find in one serving of Delicious Reds 8000.
The whole family can enjoy this nutritious treat!
Benefits
Gluten-Free
Lactose Free
Vegan
100% Natural
No MSG
No Fillers
No Preservatives
No Sugar Added