Delicious Greens 8000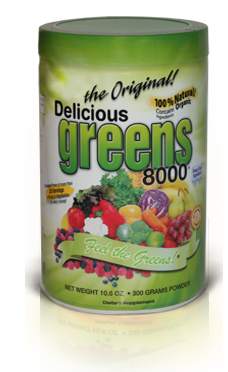 A super vegetable powder drink that doesn't taste like vegetables...it's more like a flavor explosion! Greens 8000 is infused with a variety of exotic fruit flavors like berries, orange blossom, or even chocolate.
Delicious Greens 8000 is made with dozens of ingredients including certified organic vegetables and fruits, enzymes, probiotics, natural fibers, vitamins, minerals and more. All these power ingredients give it a amazing antioxidant power of over 8000 ORAC units. It would take as many as 20 servings of fruits and vegetables to obtain the same antioxidant power you will find in just one serving of Delicious Greens 8000. Looking for a way to avoid sugar? Delicious Greens 8000 contains no added suger! The natural sweetness of Delicious Greens 8000 gives you a refreshing drink when it is simply mixed in water, no need to mix it in juice. Because it is 100% natural, you don't have to worry about over doing it; drink it throughout the day and complement it with Delicious Reds 8000, our Super Fruit powdered drink. This combination is a sensible way for you to enjoy great overall nutritional coverage and gain additional immune support benefits.
Our cocoa infused blend is incredible when mixed with milk (rice, soy or cow's). Some call it "too good to be true" but we promise it is, with added fiber and nutrients.
Any flavor you chose, you'll know you can rely on Delicious Greens 8000 to get the antioxidant power and nutrition that your body needs.
Benefits
Lactose Free
Vegan
100% Natural
No MSG
No Fillers
No Preservatives
No Sugar Added